BA Honours in Islamic Studies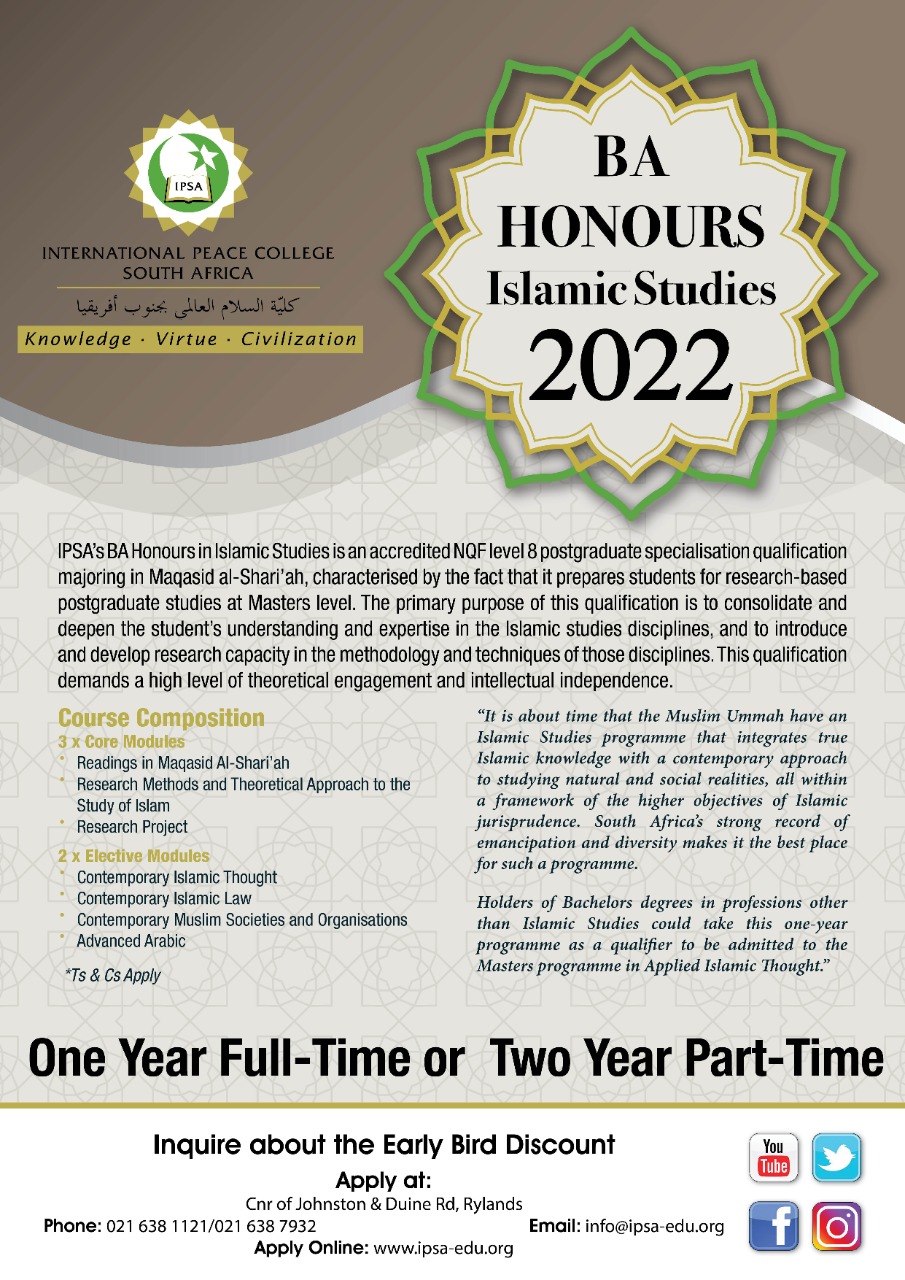 The International Peace College South Africa (IPSA) invites all qualifying candidates to apply for its accredited BA Honours in Islamic Studies programme.

Don't miss this opportunity!
Apply now!
Direct application link: https://www.ipsa-edu.org/academics/application-form
BA Honours Degree in Islamic Studies (BAHIS)
minimum 1 Year (full time) and 2 Years (part time)

It is aimed to bring together Islamic and western, old and contemporary, traditional and critical scholarships - within a framework of shared values. Each student is expected to make original contributions during their course of study based on their unique professional and academic experience.
The focus of the BAHIS programme will be to develop the methodology, framework and research skills required for further post graduate study at masters level. IPSAs educational philosophy and approach is one that is firmly rooted in Qurán, Hadith, and the rich history of fifteen hundred years of traditional scholarship, whilst it will essentially favour a contemporary and future orientation over an historical orientation. It will emphasise a holistic approach over simplicity, moral values over literalism, a multi-dimension approach over binarism, re-construction over deconstruction and purposes and principles over rules.
We are very excited about this new revised BAHIS programme. We hope that you enjoy your journey with us and we look forward to hearing about your experiences and reflections on it.
Duration of Programme and lecture times
The Bachelor Honours Degree in Islamic Studies offered at IPSA is a postgraduate specialisation qualification at NQF Exit Level 8. It is essentially aimed at preparing students for research-based postgraduate study at Masters Level. The Honours qualification is generally undertaken after a student has completed a 3-year Bachelor degree or similar qualification at NQF Exit Level 7 in an appropriate field. The BAHIS programme also serves as the first year of postgraduate study in Islamic Studies at IPSA. It provides the opportunity for further intensive academic pursuance of Islamic studies.
The primary purpose of this qualification is to consolidate and deepen the student's understanding and expertise in the Islamic studies discipline, and to develop research capacity in the methodology and techniques of that discipline. This qualification demands a high level of theoretical engagement and intellectual independence. It aims to educate and train researchers who can contribute to the development of knowledge at an advanced level and prepare graduates to contribute to the scholarly study and advanced application of Islam to contemporary challenges, and provide students in South Africa, the Muslim world and beyond, with new methods of dealing with these challenges.
The Bachelor of Arts Honours Degree in Islamic Studies develops advanced research skills in Islamic studies through the successful completion of a substantial scholarly research project. The course develops skills in Islamic studies methods, critical analysis of relevant literature, cogent and sustained argument, and clear, precise writing. Students will learn to work under supervision and take up research in a specialised Islamic studies field.
Duration of Programme
1. Minimum duration of the programme is one full academic year consisting of two semesters. Individuals registered as Full Time students are expected to complete the programme in one academic year.
2. Students registered for part time study may complete the programme in no less than two years.
Course Choices
| | Code | Title | NQF Level | NQF Credits | Lecturer Hours |
| --- | --- | --- | --- | --- | --- |
| Group A | ISL408S | Research project (Compulsory) | 8 | 30 | 20 |
| | ISL401F | Research Methods and Theoretical Approach to the Study of Islam (compulsory) | 8 | 24 | 30 |
| | ISL402F | Readings in Maqasid Al-Shariah (compulsory) | 8 | 24 | 30 |
| | | | | | |
| Group B | ISL403F | Contemporary Islamic Thought (elective) | 8 | 24 | 30 |
| | ISL405S | Contemporary Law (elective) | 8 | 24 | 30 |
| | | | | | |
| | | Total Credits Required | | 126 | |
Eligibility, Application and Registration
Target Group
Graduates in Islamic Studies, religious studies or a related field wherein the study of Islam was a significant component, and students interested in a more detailed study of Islam as well as teachers of this discipline at schools and other tertiary institutions are strongly advised to do the BAHIS programme.
Entrance Requirements
Unless IPSA Council decides otherwise, candidates will be required to meet the following criteria to be enrolled for the degree, Bachelor of Arts Honours:
Students in possession of a qualification at NQF exit level 7 in Islamic Studies, religious studies or a related field wherein the study of Islam was a significant component and have obtained an average of at least 60% in the final assessment of the final year courses for the Bachelor's degree.
A graduate in an area of study which the IPSA Council considers appropriate of this College or another institution recognised by the IPSA Council for this purpose may be admitted to a programme leading to the degree of Bachelor Honours.
A person who has in any other manner attained a level of competence which, in the opinion of IPSA Council, is adequate for the purpose of admission as a candidate for the degree.
Section (a) and (b) above is subject to IPSA's Extended Honours Programme and RPL admission pathway.
A candidate shall attend and complete the BA Honours programme in a field of study specified in the rules for the degree concerned.
RPL and Pathways to Higher Learning
IPSA has aligned the BA Honours programme's admission criteria to keep in line with the National Plan for Higher Education's (NPHE's) goal of widening access to higher education by setting equity.
This policy provides, where possible, for flexible entry routes, which includes RPL, as well as additional requirements for the programme, where applicable.
IPSA has further introduced an extended Honours programme for students who may need to fulfil certain pre-requirements in order not to compromise the general standard and quality.
IPSA applies the RPL to facilitate access to tertiary education. For more information contact the IPSA Office on 021 638 1121